Silky Pajamas All Natural & Coconut Free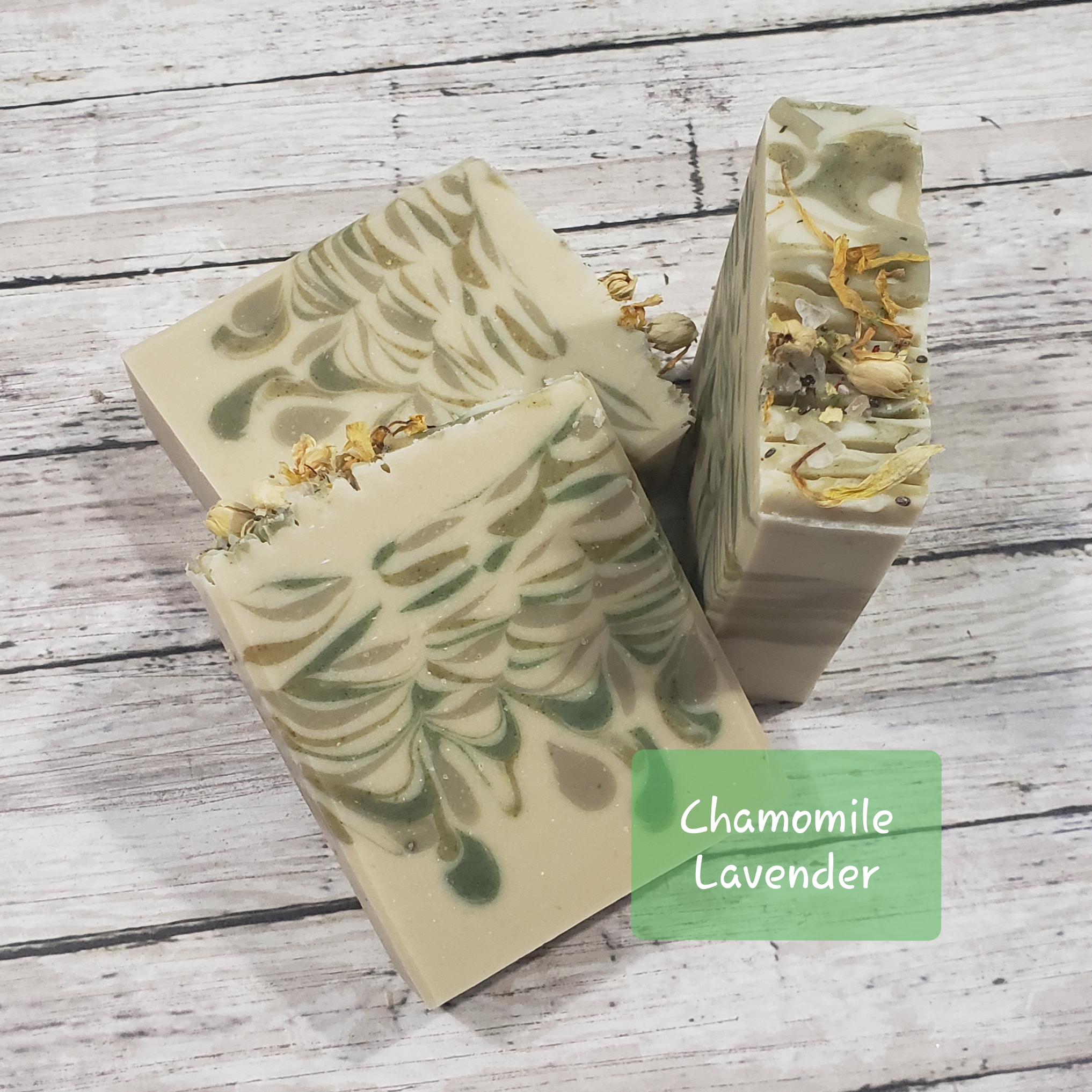 Silky Pajamas All Natural & Coconut Free
A very relaxing scent to end your day! Light some candles, pick your poison and take a hot and relaxing soak. Slip into something silky and let the day fade away.
Scented with Lavender and Chamomile
A Coconut Free Soap
Net WT. 4.5 OZ
All Natural Soap (ANS)
Ingredients: Babassu Oil, Olive Oil, Raw Nigerian Dwarf Goat Milk, Cocoa Butter, Sodium Hydroxide, Avocado Oil, Rice Bran Oil, Shea Butter, Tallow, Essential Oils, Castor Oil, Jojoba Oil Kaolin Clay, Zinc Oxide, Sea Clay, Moringa Tea, Spirulina, Calendula, Jasmine, Chia, Safflower, Sea Salt.
Scented Chamomile and Lavender
All Natural
Soap Benefits:
Goat Milk:
packed with vitamins, such as A, B1, B6, B12, C, D, E, etc., and minerals, such as zinc, copper, iron, selenium.

natural moisturizer that gets absorbed by the skin instantly and creates a moisture barrier to keep it soft, smooth and supple for a longer period of time.

according to experts, goat milk soap is capable of giving tough competition to any other anti-bacterial soap available on the market, especially when it comes to treating acne.

helpful in relieving the skin inflammation

enriched with alpha hydroxyl acids which removes dead skin cells and encourages the growth of new skin cells.
Babassu Oil: Fights acne with natural anti-fungal and anti-bacterial properties, helps to promote healing of acne-related scarring.
Brings relief to dry and itchy skin irritations such as eczema and psoriasis. Soothes scalp – alleviates dandruff and brings relief to dry, itchy scalp.
Conditions hair – add to hair conditioner or use as a leave-in for dry ends. Reduces inflammation and redness from bug bites, mild burns, rashes and rosacea. Relieves sunburn - Babassu is naturally cooling, making it a great after-sun exposure treatment.
Cocoa Butter: Naturally an antioxidant
Avocado Oil: Natural vitamins B1, B2 and A.
Rice Bran Oil: Excellent skin moisturizer and high in Vitamin E and antioxidants.
Castor Oil: Draws moisture to the skin. Contributes to large and fluffy lather in cold process soap.
Kaolin Clay: Known to reduce oily skin, purify pores & detox skin. Also good for irritated skin, soothes sensitive skin and treats acne.
*This information should not be used to treat or diagnose health/skin conditions.